Bitumen emulsion sprayer RBEM-0,2
GlobeCore Bitumen Emulsion Sprayer unit is designed to diffuse hot bitumen emulsion for road construction work.  The process of bitumen emulsion spraying is achieved by means of rotary gear pump. The tank for bitumen emulsion storage can be heated by means of burner. The design of the sprayer provides an operation in an environment with an ambient temperature of + 10 ° C to + 40 ° C and a relative humidity of 98% at 25 ° C.
GENERAL VIEW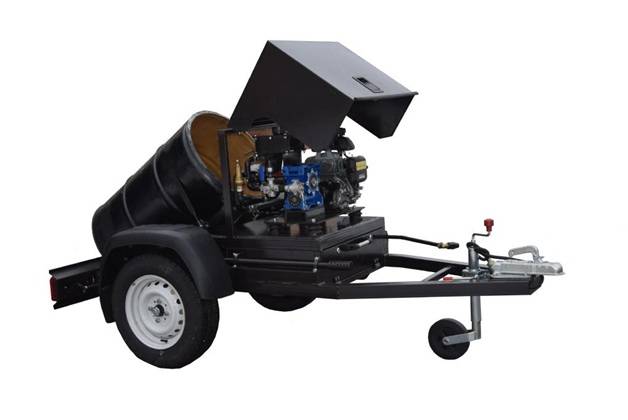 Photo 1 General view
 APPLICATION
Road surfacing
Earth surfacing
For road patching
Sealing of cracks
Asphalt construction work
TECHNICAL DESCRIPTION
Properties

Value

1. Spray nozzle
 
 
– nozzle type

hollow cone

 
– height from earth, mm

380

 
– length of flexible hose, m


6

2. Full value, м³

0,2

3. Work value,  m³

0,18

4. Emulsion pump capacity, l/min

34,2

5. Internal combustion engine
 
 
– output, kW
 
 
– rotation, r/min

3600

6. Dimension, mm
 
– length in work position

2160

 
– length with raised dumper

3225

 
– height with raised down housing

1110

 
– width with raised up housing

1471

 
– width 

990

7.Mass, kg

250

8.Mass if filled , kg

450
COMPONENT PARTS
1 – Tank with volume 0,2m ³; 2 – Frame; 3 – Protective cover; 4 – Connecting device; 5 – The internal combustion engine a; 6 – Reducer; 7 – Bitumen pump ; 8 – Check valve; 9 – Tank  for washing  of systems; 10 – Rod, 11 – Box for storing of hoses
FUNCTION OF PUMPING UNIT
Tank filling.
Injection ofemulsiononthe nozzle.
Recycling ofasphalt emulsion.
System flushing.
SOUND LEVELS
Noise levels set in accordance with ISO 3644:
Sound Power: 100.6 dB (A)
Equivalent sound pressure level at the workplace: 85.8 dB (A)
The level of increase in sound pressure in the workplace <135 dB
 FILLING OF TANK WITH EMULSION
Filling the emulsion can be carried out in the following manner: through the filler hole in the tank
EMULSION LEVEL CONTROL
Level control of  emulsion is  made visually through the filler opening installed on the top of the container.
DISCHARGE OF EMULSION
 On the Camlock connection, disconnect the rod and discharge the emulsion by means of the pumping unit. Do not dispose of unused emulsion into the environment, collect it and send it in an incinerator.
TEMPERATURE EMULSION CONTROL
Control at the moment achieved temperature of the emulsion is carried out before filling by means of visual thermometer. If you need another temperature, use preliminary heated or cold emulsion.
 START, STOP, EMERGENCY STARTING THE INTERNAL ENGINE
To start, stop, emergency start of the internal combustion engine, carefully read the attached instructions for use and maintenance of the internal combustion engine.
NOZZLE USE
Use the nozzle as shown on the following figure.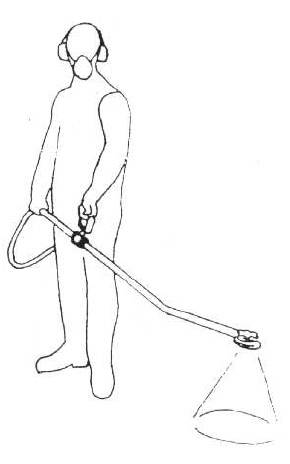 NOZZLE APPLICATION
 After starting the engine, perform the following steps:
The choice of emulsion installation cranes as per Chapter 7
Turn the handle on the nozzle in position 1, wherein the emulsion starts to flow
END OF SPRAYING
Close the injector valve
Open the tap under flushing tank  to perform cleaning
WARRANTY
GlobeCore warrants the machinery supplied under this specification against defects in material and workmanship under normal use and service for a period of 12 months from the date of commissioning.