Transformer Oil Regeneration Plant CMM-2R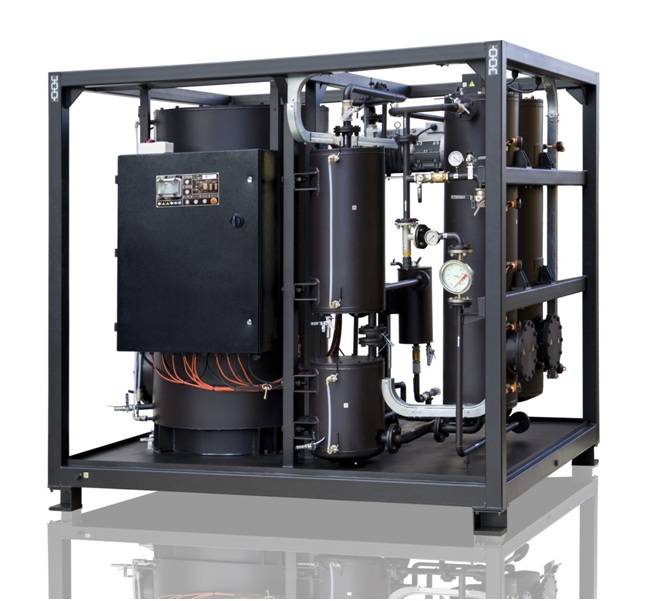 Oil regeneration unit CMM2-R (with 2 columns) is are designed to extend the life of transformers by recovery of the dielectric strength and chemical composition of insulating oils. During the oil regeneration, decomposition products are removed from oil as well as acid components. The oil becomes clear and transparent. There is a resistance to oxidation is increased and ability to dissolve gases is reduced. The specific futures of regeneration plant is their ability to work together with degassing equipment or oil drying units. This enables the recovery of insulating oils in the transformer directly.
The regeneration of the oil enables to dissolve the precipitate and to remove it with sorbent.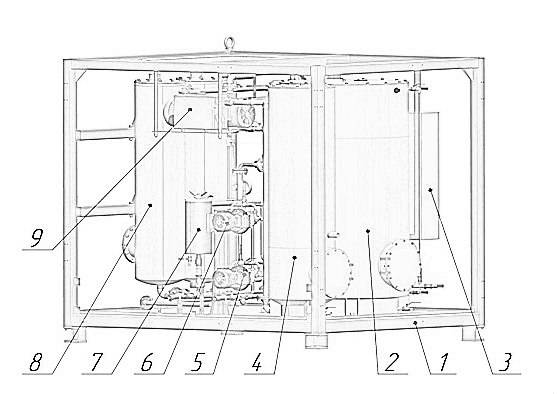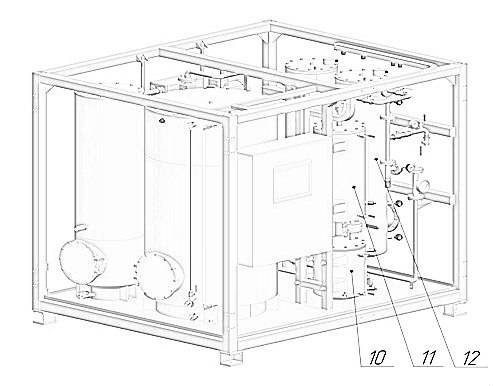 Components parts of CMM-2R:
Frame.
The buffer capacity. The oil reservoir is used for refueling oil and condensate drain.
Control cabinet.
Charcoal filters. It cleans exhaust sorbent reactivation time.
5. Injection pump. Used for pumping the working fluid.
Transfer pump. Oil is used for selection during regeneration of the sorbent.
7. Filter.Is used for filtering
Right column. Transformer oil regeneration occurs
Vacuum pump. Serves to create a vacuum in the system sorbent reactivation time.
Capacity intermediate. There is a separation of air bubbles in the regeneration of oil, and the collection and pumping of condensate, which was formed during reactivation.
Oil collector. It condenses of moisture and heavy fractions for reactivation of sorbent.
Column control. Transformer oil regeneration occurs.
 PRINCIPLES OF OIL REGENERATION PROCESS
Main principle of Oil Regeneration is to draw oil through the sorbent (Fuller's Earth). During this process oil undergoes "molecular filtration" in the microporous sorbent. By-products of oil ageing are removed and stay in the Fuller's Earth granules. After the sorbent has accumulated certain amount of contaminants, CMM-R plant switches into sorbent reactivation mode.
OIL RECOVERY METHOD
The main future of regeneration plant is the use of a special sorbent "fuller's earth" with the possibility of multiple recovery of its characteristics, which makes it possible to carry out continuous regeneration of oil without interruption for the replacement of the sorbent. After saturation of the sorbent with impurities, installation mode involves the Reactivation of the sorbent. During reactivation the sorbent's the microspores is cleaned, whereby all contaminants are removed in the special volume and a carbon filter.
TECHNICAL INFORMATION
№
Parameter
Value
1
Number of sorbent in columns, kg
300*
2
Sorbent type
Fuller's earth
3
Time sorbent reactivation
16 hours
4
Power consumption, kW
10
5
Supply voltage three-phase AC frequency, 50 Hz,60Hz,V
380
6
Plants dimensions, мм

– Length

– Width

– Height

2500

2100

2300

7
Mass, kg
2050
*Approximately amount of recovered oil is 4 liter / 1 kg of fuller's earth by acid including oils 0,2mg KOH / g. By reducing the number of acid-treated oil ratio of 1 kilogram of land increases proportionately.
OIL PARAMETERS AFTER REGENERATION PROCESS
| | | |
| --- | --- | --- |
| Parameters | Before regeneration | After regeneration |
| Appearance | Turbid, brown fluid | Transparent fluid not containing sludge and particulate |
| Acid number, mg КОН/g | 0,63 | 0,01 |
| Corroding sulphur | Gained | None |
| Tan delta,90ºС | 4,0 | 0,001 |
| Surface tension, N/m, при 25ºС | 22 | 45 |
| Mechanical impurities, micrones | 50 | 5 |
| Oxidation stability: мg КОН/g | — | 0,2 |
CONTROL CABINET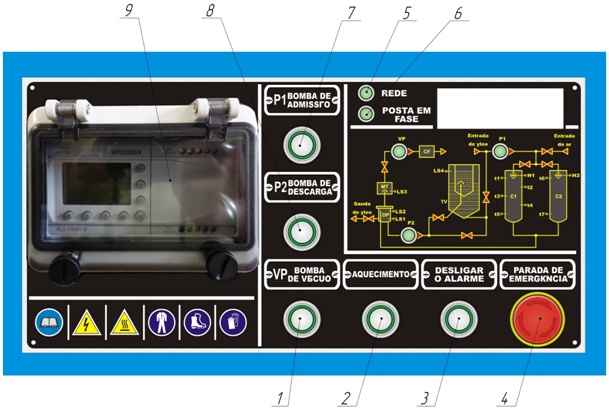 1 – «Start/stop» vacuum pump; 2 – heating; 3 – alarm reset; 4 – emergency stop; 5 –LED signal, 6 – Alarm LED lights up when the power supply to the station with the right alternating supply phases; 7 –«start/stop» injection pump; 8 – «start/stop» pump to transfer; 9 -– controller Alpha 2