The main object of turbines – is the generation of electricity at power plants. Rotation of the turbine is made by means of water, steam, gas, wind or nuclear energy. The turbines at thermal power plants have different design and power from 500 to 1500 kW. Generally powerful steam turbine speed is 3000 revolutions per minute and its shaft directly coupled to the shaft of the electric generator producing three-phase alternating current frequency of 50 Hz and voltage 10-15 thousand volts.
When the first turbine was built?
Attempts to create a mechanism similar to the turbine have been made a long time ago. The first steam turbine was built in 1883 by the Swedish engineer Laval. It had an active principle of operation, high speed, up to167 from 1 (10 000 rev / min and worked through the gearbox.)
                                     The steam turbine structure
– Lubrication system of the turbine bearings and turbine generator;
– Shaft seal system of the turbo generator;
– Control and protection system of the turbine;
– Lubrication system of feeding pumps steam turbines;
– Reception, storage and oil recovery (main and auxiliary oil pumps, oil tank)
– Oil coolers with respective pipelines form the oil cooling system.
                                    The result of oil contamination
– There are special shaft seals of turbo-generator in turbines. If water penetrates in these seals, result is – turbine seals damage and control systems reliability decrease;
– Electro erosion of bearing;
– Wear resistant  of pads and the bearing shells;
– Deteriorating of performance and reduction of turbine oils service life.
– In case of insufficient lubrication systems cleanliness, class oil purification can deteriorate rapidly (3-4 grade);
– With an increase in the vibration of turbine unit, valley ejection of oil contamination is going on towards the bearings of turbines and turbo-generators.
Therefore, oil must be well-timed dried and degassed, thereby prolonging of turbine life and reducing of the oil oxidation rate.
                                    What kinds of treatment are used in power plants?
To maintain the quality of lubrication oil during operation at power plants,  different type of equipment is used as:
– Hydro dynamical washing,
– Rinsing of the oil system with water chemical liquor
– Use of  oil filtration equipment to remove traces of moisture from the oil.
             But, the most rational kind of oil treatment is – equipment for cleaning of lubrication oil from moisture.  For this purpose, ideal is GlobeCore's lubrication oil filtration unit CMM-4T.        
                                                               Photo of turbine oil filtration system CMM-4T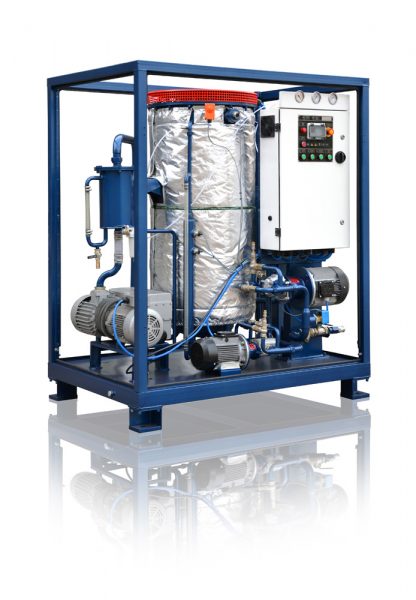 As you can see, high-quality treatment of pressure oil lines and, especially, drain pipes and drain collectors, as well as turbine oil provides long-term reliable operation of the turbines reducing material costs for equipment repair. It's real cost effective solution for your turbines, using equipment of company GlobeCore's series CMM-T.