CMM-4/7 Degasing Unit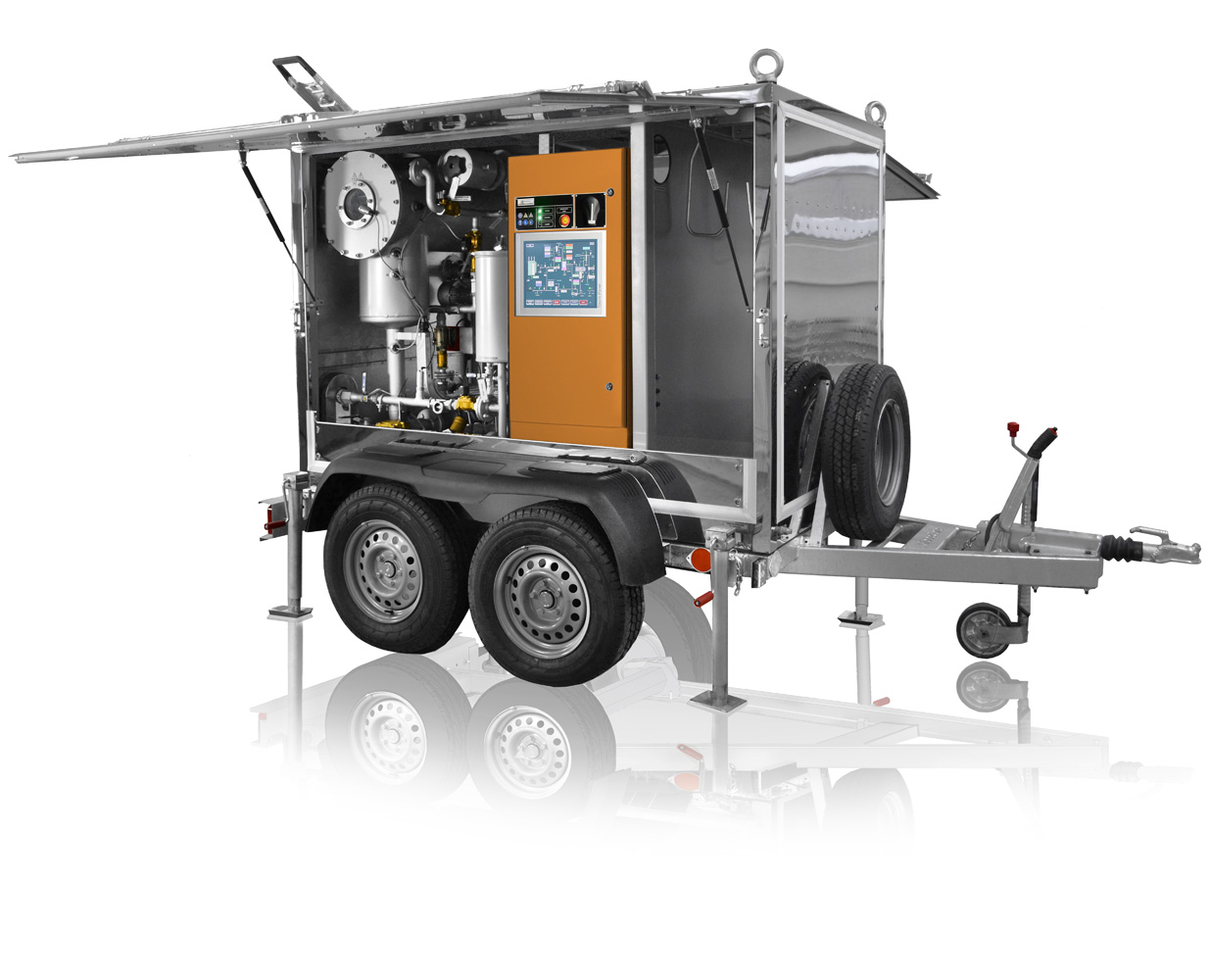 The primary objectives of restoring a power transformer's insulation system are maintenance, increase of dielectric strength and reduction of insulation material aging rate.
Restoration of insulation and a significant extension of transformer life are achieved through the following techniques:
oil degassing and dehydration;
filtration;
drying of solid insulation;
degassing and reimpregnation of insulation with oil;
oil regeneration;
regeneration of insulation and core;
PCB removal.
To perform transformer oil treatment like degassing, heating and filtration of solid particles, GlobeCore produces CMM-4/7 series. This equipment can also be used for heating oil-filled electrical systems with hot oil, transformer vacuum dehydration and vacuum evaporation. It will be useful for installation, maintenance and operating companies dealing with transformer oil.
Principle of operation
The CMM-4/7 operates on the principle of thermo-vacuum degassing and dehydration of insulation oils. Filtration is performed by 5 micron filters.
Specifications
Parameters

Value

Capacity, m3/hour, min

-in degassing, dehydration and filtration mode

4,0

-in heating and filtration mode

7,0

Capacity adjustment range, m3/hour

0-4,0

Maximum oil outlet temperature in heating mode, ºС

90

Filtration coefficient

>50

Outlet pressure, МPа

0,35

Delivery head, m

35,0

Heater power, kW

70

Oil heater specific surface rating, W/сm2, max

1,1

10 Maximum power consumption, kW, max

80

11 Electric power parameters

-Voltage, V

380

-frequency, Hz

50

Overall dimensions, mm max

-length

1650

-height

1590

-width

1250

Weight, kg, max

920
CMM-4/7 scope of supply:
Coarse and fine filters;
oil heater;
vacuum chamber;
oil pumps;
vacuum system.
Advantages of CMM-4/7:
no need to use adsorbents to dehydrate transformer oil;
operation of equipment causes no air pollution or waste requiring storage and disposal;
easy to operate and maintain;
maximum oil specifications even after one treatment cycle;
low power consumption;
low noise level;
unit can be easily placed on a trailer and used on site.