Oil Filtration Plant CFU-1.7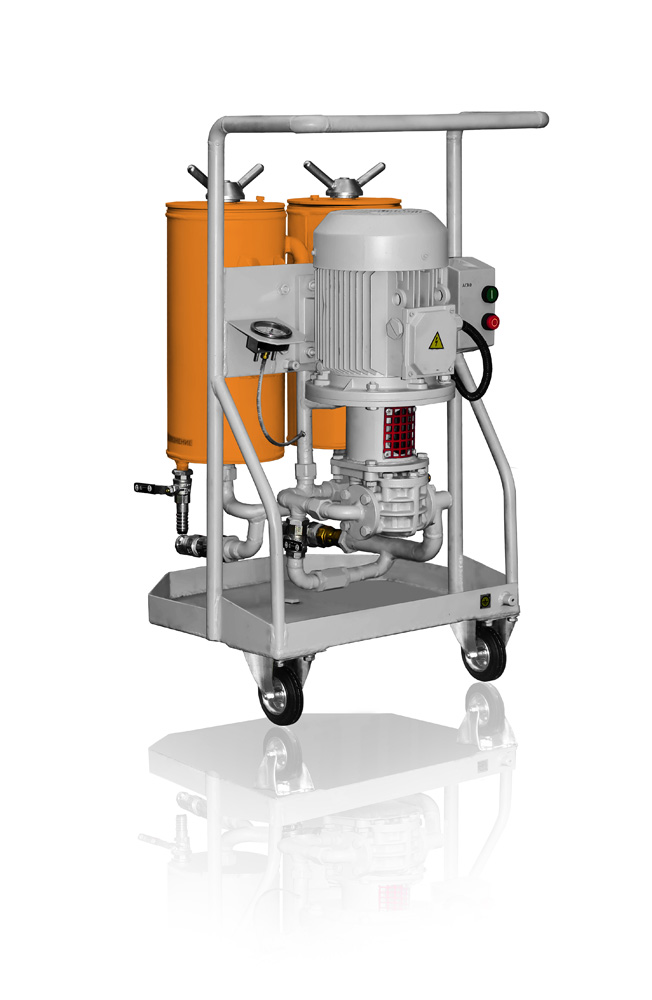 Oil Filtration Plant CFU is designed for removal of mechanical contaminations from transformer and lubricating oils.
Identification Key: C – cart, P – pump, SW – switch, F1– filter 1, F2 – filter 2
DESCRIPTION
Oil Filtration Plant CFU is a portable filtration unit, mounted on a cart. CFU consists of two filter housings with filter cartridges (filtration rate – 5 micron) and magnets, oil pump, switch and manometers.
Oil is drown from external tank by pump P, through inlet Valve V1 and  filters F1 and F2 back into external tank.
FLOW DIAGRAM

Identification Key: MF –mesh filter, V1-V5 – valves, M1, M2 – manometers, F1, F2 – filters, P– pump, SV – safety valve
SPECIFICATIONS
№

Parameter

Value

1
Production capacity max, m3/h

1,7

2
Filtration rate, micron

5

3
Power consumption, kW

1,5

4
Pressure differential, MPa

0,4

5
Oil pressure on outlet, MPa

0,25

8
Power supply, 60 Hz, V, 3 Ph.

480

9
Dimensions, mm

– length

– width

– height

600

600

1100

10
Weight, kg

60